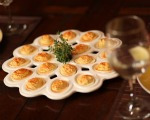 Prep: 18 min
Cook Time: 12 min
Total: 30 min
Serving: 24 egg halves
For your next get-together, prepare a couple dozen deviled eggs. This recipe features Greek yogurt for a creamy taste and hot pepper sauce for some kick.
Ingredients
3/4 cup Dannon Oikos Greek Nonfat Plain Yogurt
12 large eggs
1 tablespoon + 1 teaspoon Dijon mustard
1-1/4 teaspoon hot pepper sauce
1/4 teaspoon each salt and pepper
1/4 teaspoon ground cumin
1/4 teaspoon paprika
Directions
Place eggs in soup pot and cover with water. Cook on high heat until water comes to a low boil. Turn heat down to maintain a simmer and cook for 12 minutes.
Drain water from pot and cover eggs with cold water and ice to cool down immediately. Peel eggs and cut in half lengthwise. Place yolks into bowl and line up whites on a platter or sided cookie sheet pan. Mash yolks with fork until smooth.
Add yogurt, mustard, hot sauce, salt, pepper, and cumin to yolks, and stir together.
Scoop filling into quart-size plastic bag and cut off corner tip to make a ¼-inch slit. Pipe yolks generously into whites and sprinkle yolks with paprika. Eat immediately or refrigerate for up to 3-4 days.