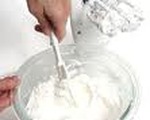 Prep: 5 min
Cook Time: 15 min
Total: 20 min
Serving: 6
Norwegian Cream Porridge is a traditional, national dish.
Ingredients
2 cups thick sour cream
1 quart milk
1 cup flour
1/2 teaspoon salt
sugar, cinnamon and fruit juice for garnishing
Directions
Boil sour cream for 5 minutes. Sprinkle in 4 tablespoons flour, beat until butter oozes out. Skim off butter and keep hot. Add remaining flour; pour on the rest of the milk which has been boiled. Boil mixture for 5 minutes and stir constantly until smooth. Add salt. Pour into hot soup plates. Garnish with sugar, cinnamon and fruit juice.