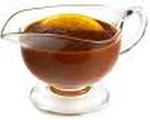 Prep: 15 min
Cook Time: 1 hr
Total: 1 hr 15 min
Serving:
North Carolina Barbecue Sauce is great with chicken or beef.
Ingredients
1 stick butter
6 garlic cloves, minced
1 teaspoon cinnamon
1 teaspoon dry mustard
1/2 cup brown sugar
1 cup water
1 large onion, chopped
1 cup white vinegar
2 whole cloves
1 teaspoon chili powder
2/3 cup ketchup
salt and pepper to taste
Directions
Melt butter in saucepan. Add onion and garlic. Cook until brown. Add vinegar, cinnamon, cloves, mustard, chili powder, ketchup and brown sugar. Stir ingredients and add water and blend. Bring mixture to a boil. Lower heat and simmer. Add salt and pepper to taste. Simmer for 30 minutes.