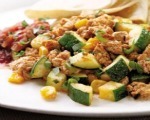 Prep: 15 min
Cook Time: 25 min
Total: 40 min
Serving: Serves 4-6 people
Tofu sometimes gets a bad rap for being boring. Not so! A great source of protein, Noodles with Smoked Tofu and Vegetables is just about as tasty as dinner gets.
Ingredients
1 package egg noodles, cooked and drained
2, 8-ounce packages smoked tofu, cubed
3 tablespoons low-sodium soy sauce
2 tablespoons dry sherry or vermouth
1 tablespoon sesame oil
3 tablespoons sunflower oil
2 leeks, thinly sliced
2 carrots, cut in thin strips
1 large zucchini, thinly sliced
4 ounces baby corn, halved
4 ounces white or shiitake mushrooms, sliced
1 tablespoon sesame seeds
Directions
Cook the noodles, drain it and set it aside. In a small bowl, whisk together the soy sauce, sherry or vermouth and the sesame oil. Add the cubed tofu and allow to marinade for at least 30 minutes. When finished, remove the tofu and reserve the marinade.
Using a wok or a fry pan, heat the sunflower oil over medium-high heat and stir fry the tofu until browned. Remove and set aside.
Stir fry the leeks, carrots, zucchini and baby corn, stirring constantly for about 2-3 minutes. Add the mushrooms and cook for another few minutes.
Add the tofu to the vegetable stir fry and add the marinade. Stir all together and heat until bubbling, then sprinkle the sesame seeds over top. Toss with the noodles and serve hot. If you need to, you can add a bit of sesame oil to the noodles.