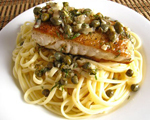 Prep: 20 min
Cook Time: 24 min
Total: 44 min
Serving: 4 Servings
A tapenade is a French sauce made from a mix of finely chopped anchovies, olive oil, capers and spices. It can be used as a sauce or as a spread for crackers and bread.
Ingredients
1/2 pound linguine
1 tablespoon olive oil
1/2 tablespoon lemon juice
1 pound halibut steak or fillet, 1 inch thick
For the Tapenade Sauce:
1 orange
3/4 cup oil cured black olives, pitted
1 can anchovy fillets, drained
3 cloves garlic
1 small bunch parsley
1 sprig rosemary
1/2 cup extra virgin olive oil
2 tablespoons capers, drained
Freshly ground black pepper
Directions
Prepare the grill on medium-high heat.
Zest the orange and then squeeze out juice into a bowl.
Finely chop the orange zest with the olives, anchovies, garlic, parsley leaves and rosemary and place into bowl.
Stir in the olive oil, capers and the juice. Grind in some black pepper and stir to blend.
Cook linguine as directed on package; drain pasta and toss with half of the orange tapenade sauce. Set aside.
Grill the halibut for 4 minutes on each side, turning once. Remove the fish from the grill and let rest for a few minutes until thinly slicing.
Place noodles on a serving dish and top with the fish. Spoon the remaining tapenade over fish and noodles.