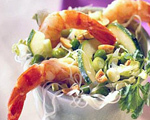 Prep: 15 min
Cook Time: 5 min
Total: 20 min
Serving: 6 Servings
This 20-minute Asian-inspired dish is made with shrimp, cabbage, cucumber, green onions and rice-flour noodles. Serve it in place of salad as an impressive starter, or enjoy it as a light weeknight main dish dinner.
Ingredients
6 large cloves garlic, halved
1-1/2 tablespoons grated fresh ginger
4 dashes bottled hot pepper sauce
1/4 cup apricot preserves
3 tablespoons honey
1 teaspoon finely shredded lemon peel
1/4 teaspoon toasted sesame oil
3 tablespoons rice vinegar
4 ounces rice-flour noodles or rice sticks
1 cup frozen peas, thawed
1 pound cooked peeled shrimp
1 English cucumber, halved lengthwise, seeded, and sliced
6 green onions, sliced (2/3 cup)
2 cups thinly shredded Savoy cabbage
1/2 cup rice wine vinegar
1/4 teaspoon salt
2 tablespoons fresh cilantro leaves or small cilantro sprigs
1/4 cup chopped dry roasted peanuts
Directions
Place the garlic, ginger, hot pepper sauce, preserves, honey, lemon peel and sesame oil into a blender and process until the mixture is smooth. Remove from the blender and place in a bowl. Stir in the rice wine vinegar, add a few pinches of salt and mix until well blended.
Cook the noodles according to package directions, drain well and then cut into 2-inch pieces.
Place the noodles into a bowl with the peas, shrimp, cucumber, onion, and cabbage, add the garlic sauce and then toss well to coat. Serve sprinkled with the cilantro and the peanuts.