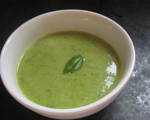 Prep: 10 min
Cook Time: 25 min
Total: 35 min
Serving: 4 Servings
Heavy cream is omitted from this recipe for green pea soup and replaced with oat cream instead. A lovely light and slightly sweet vegetarian dish that pairs well with a full-bodied fruity Chardonnay.
Ingredients
1 tablespoon extra virgin olive oil
1 onion, chopped
1/2 teaspoon sea salt
1 pinch of chili powder
1-1/2 cups frozen green peas
3 cups vegetable broth
1/2 lemon, juiced
1/3 cup oat cream
thyme to garnish
Soyghurt to garnish
Directions
Place the olive oil into a soup pot and then add the onion, garlic, salt and chili and sauté for 5 minutes over medium-high heat.
Stir in the green peas and the broth, and bring the mixture to a boil. Once boiling, reduce the heat to medium-low and simmer for 15 minutes.
Using a stick blender, puree the mixture until smooth and then stir in the oat cream, lemon juice and thyme. Season to taste with additional salt and then serve garnished with some thyme and a dollop of soyghurt.