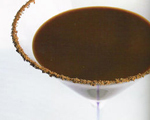 Prep: 1 hr
Cook Time: 20 min
Total: 1 hr 20 min
Serving: 3 cocktails
The perfect non-alcoholic cocktail for the chocoholics at your party who are designated drivers. Serve in a martini glass and garnish rim with cocoa powder.
Ingredients
1 milk chocolate bar, broken into squares
7 ounces milk
2-1/4 ounces vanilla syrup
Ice
Cocoa powder to garnish
Directions
Pour the milk into a small saucepan and heat on low until simmering. Stir often so milk does not stick.
Drop the squares of chocolate into the milk and continue to stir until chocolate has melted. Cool the mixture for approximately 1 hour and then chill in the refrigerator.
Lightly wet the rim of a martini glass and then dip on a plate with the cocoa.
Empty the mixture into a cocktail shaker and add the vanilla syrup. Shake the cocktail over ice for about 50 seconds and then double-strain into a glass.