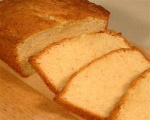 Prep: 15 min
Cook Time: 30 min
Total: 45 min
Serving: 8 servings
Guilt-free delicious homemade pound cake.
Ingredients
3/4 cup all-purpose flour
1 1/2 teaspoons baking powder
1/4 cup unsalted margarine
1/4 cup sugar
2 eggs
2 teaspoons vanilla extract
Directions
Preheat the oven to 350 degrees Fahrenheit. Grease an 11x4-inch loaf pan.
Sift together the flour and baking powder.
In a separate bowl, beat the margarine until creamy. Slowly add int eh sugar, beating until fluffy. Mix the eggs in, one at a time. Stir in the vanilla extract.
Slowly add in the flour mixture. Mix until well combined.
Pour into the prepared pan. Bake for 30 minutes, or until golden brown.