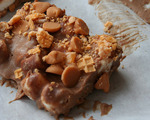 Prep: 25 min
Cook Time: 5 min
Total: 30 min
Serving: Makes 1, 9x13-inch pan of S'mores
Add some butterscotch to a classic S'mores recipe and you get an even creamier, sweeter and gooier dessert delight.
Ingredients
2/3 cup light corn syrup
2 tablespoons butter plus extra to grease pan
1 cup semi-sweet chocolate morsels
1/2 cup butterscotch morsels plus 1/4 cup to garnish
1 (4.4-ounce) package of 8 individually wrapped peanut butter cups, broken into smaller pieces
1 teaspoon vanilla extract
1 (12-ounce) box Golden Grahams cereal
2 cups miniature marshmallows
Directions
Line a 9x13-inch pan with aluminum foil and then grease with butter. Lightly butter a sheet of wax paper and set aside.
Place the corn syrup, butter, chocolate morsels, 1/2 cup butterscotch morsels and broken peanut butter cups into a saucepan, and bring to a boil while stirring constantly to prevent sticking.
Remove the pan from the heat, stir in the vanilla, and then pour the hot mixture into a bowl with the cereal. Toss the mixture to coat and then slowly fold in the marshmallows.
Transfer the mixture to the prepared pan and evenly spread the mixture into the pan by using the buttered wax paper. Garnish the top of the dessert with the remaining butterscotch morsels and then set aside to firm prior to serving.