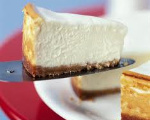 Prep: 30 min
Cook Time: 7 hr
Total: 7 hr 30 min
Serving: 12 servings
An easy to make deep New York cheesecake. Perfect topped with strawberries and whip cream!
Ingredients
8 full graham crackers
2 tablespoons butter
4 (8 ounce) packages of cream cheese, softened
1 1/2 cups white sugar
3/4 cup milk
4 eggs
1 cup sour cream
1 tablespoon vanilla extract
1/4 cup flour
Directions
Preheat oven to 350 degrees Fahrenheit. Grease a 9 inch springform pan
Melt the butter. Crush the graham crackers. Combine and press into the bottom of the pan.
Combine the cream cheese and sugar, Mix until smooth. Add in milk, then one at a time the eggs mixing only enough to incorporate them.
Add the sour cream, vanilla and flour. Beat until smooth.
Pour into the prepared pan.
Bake for 1 hour. Turn off the oven and keep the oven door closed for 5-6 hours to help prevent cracking. Chill until ready to serve.