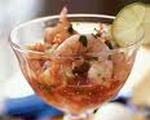 Prep: 20 min
Cook Time: 4 hr
Total: 4 hr 20 min
Serving: 4-6 People
Try this fresh, homemade ceviche as a delicious dip or side dish. It's amazing!
Ingredients
Fresh white fish, scallops, and shrimp, cut up
4 tablespoons olive oil
4 tablespoons fresh lime juice, plus enough to cover fish mixture
Ripe sliced black olives
Cherry tomatoes, cut in half
Herdez salsa
1 red onion, chopped
Cracked pepper
1 to 2 jalapeños
Salt to taste
Fresh garlic, to taste
1 bunch fresh cilantro
Directions
Cover fish mixture with lime juice and marinate for 2 to 4 hours, or until fish are opaque. Rinse off juice and drain.
Put fish mixture into a serving bowl with olive oil, fresh lime juice, olives, cherry tomatoes, salsa, onion, pepper, jalapeños, salt, cilantro, and fresh garlic.
Before serving, you may add chopped cucumbers and/or avocados. Serve with tostadas or lettuce.