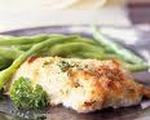 Prep: 10 min
Cook Time: 20 min
Total: 30 min
Serving: 4
New England Cod Chowder has a creamy broth and lots of potatoes.
Ingredients
12 ounces of raw cod, skin removed
1/4 cup water
2 cups potatoes, diced, 1/2 inch pieces
2 tablespoons butter
1/2 cup onions, chopped
1/4 cup flour
3 cups milk
1 teaspoon dried parsley
1 teaspoon dried thyme
1/8 teaspoon white pepper
salt to taste
Directions
The cod can be fresh or frozen. Cut into cubes and place in microwave dish. Cover with 1/4 cup water and cook in microwave for 3 minutes or until cooked.
Put potatoes in a stock pot and cover with water. Boil until tender. Drain. In the same pot melt butter and saute the onions. Add the flour and whisk together into a roux. Slowly add the milk while you whisk.
Cook over medium heat to thicken. Add parsley, thyme, pepper and salt. Add the cooked cod and water mixture. Cook over low heat for an additional 15 minutes. Do not boil.