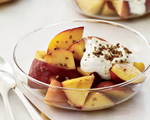 Prep: 10 min
Cook Time: 10 min
Total: 20 min
Serving: 4 Servings
The juicy taste and intoxicatingly-fragrant aroma of ripe nectarines makes a wonderful contrast to the sharp bite of crushed gingersnap cookies in this simple summer dessert recipe.
Ingredients
1 pound nectarines, cut into 3/4-inch dice
3 tablespoons sugar
1/4 teaspoon ground cinnamon
1/2 cup crushed gingersnaps, 2 ounces
1 tablespoon unsalted butter, softened
4 12-inch squares of heavy-duty aluminum foil
Plain Greek yogurt to garnish
Directions
Prepare a grill on medium heat.
Place the nectarines, sugar, cinnamon and 1/2 the crushed gingersnaps into a bowl and toss well to combine.
Place 1/4 tablespoon of butter in the center of each foil square and then top with the nectarine mixture. Bring the sides of the foil up to cover the fruit and close like a package.
Put the fruit packages on the grill and cook for 10 minutes, then remove from the grill, open and empty the contents into a dessert bowl. Top with the remaining gingersnaps and then garnish with a dollop of yogurt.