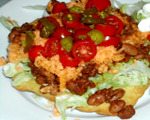 Prep: 25 min
Cook Time: 25 min
Total: 50 min
Serving: 8
Navajo Tacos are made with homemade fry bread.
Ingredients
2 cups flour
1 cup milk
1 teaspoon baking powder
salt
oil
2 cups onions, chopped
8 teaspoons chili powder
2 pounds ground beef
1, 15 ounce can tomato paste
2, 16 ounce cans pinto beans
shredded lettuce, cheese, tomatoes, green peppers for garnish
Directions
Combine first 3 ingredients with 1/2 teaspoon salt in bowl, mixing well. Knead on a floured board until smooth. Divide into portions and roll out individual fry breads. Fry in hot deep oil until brown.
Saute onions in 1/4 cup oil in skillet. Add 3 teaspoons salt and chili powder cooking for 1 minute. Add ground beef and brown, stirring until crumbly. Stir in tomato paste and beans, mixing well. Cook over low heat for 10 minutes, stirring occasionally.
Spoon into fry bread slit to form pockets. Garnish with shredded lettuce, cheese, diced tomatoes and green peppers.