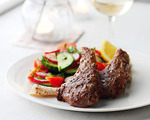 Prep: 5 min
Cook Time: 12 min
Total: 17 min
Serving: 6 Servings
If there were ever the perfect relationship between a protein and a condiment then it would be the delicious pairing of lamb and mustard.
Ingredients
6 lamb sirloin or shoulder chops, about 3/4-inch thick (about 2 pounds)
1 tablespoon chopped fresh thyme
1-1/2 tablespoons olive oil
2 tablespoons Dijon mustard
salt and fresh pepper to taste
Directions
Prepare your oven broiler.
In a small bowl, whisk together the thyme, olive oil and Dijon.
Place the lamb onto a broiler pan and brush with half of the mustard mixture. Broil the chops about 4 inches from the heat for 4 minutes.
Flip the chops, brush with the remaining sauce and then broil for an additional 7 minutes. Serve immediately.