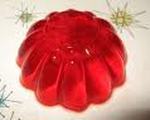 Prep: 2 hr 30 min
Cook Time: 10 min
Total: 2 hr 40 min
Serving: 6
Mustard Ring is a flavorful condiment that goes great with ham or lamb.
Ingredients
4 eggs
3/4 cup sugar
1 envelope unflavored gelatin
1 1/2 tablespoons dry mustard
1/2 teaspoon tumeric
1/4 teaspoon salt
1 cup water
1/2 cup cider vinegar
1 cup heavy cream, whipped
Directions
Beat eggs in top of double boiler, no heat. Mix sugar, gelatin, mustard, tumeric and salt in a separate bowl.
Add water and vinegar to eggs and stir in sugar mixture. Cook over boiling water until slightly thickened. Stir often.
Cool in refrigerator until partially set. Fold in whip cream and pour into a 1 1/2 quart mold. Chill until firm.