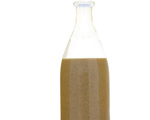 Prep: 20 min
Cook Time: 5 min
Total: 25 min
Serving: 8 servings
This homemade hot sauce recipe is prepared with a blend of habanero chiles, garlic, various herbs and spices and a touch of mustard for added richness and complexity. Make sure to use rubber gloves when seeding the chiles to prevent skin irritation.
Ingredients
14 habanero chiles
12 cloves garlic, peeled
8 scallions, coarsely chopped
1 carrot, sliced 1/4 inch thick
3/4 cup cilantro sprigs
2 tablespoons thyme leaves
3/4 cup distilled white vinegar
3/4 cup water
1/2 cup yellow mustard
1/2 teaspoon ground allspice
1 tablespoon sea salt
Directions
Fill a saucepan with water and then bring to a boil. Put the chiles into a strainer and then place in the boiling water; blanch the chiles for 35 seconds, pressing them down to fully submerge, and then remove the chiles and set aside.
Place the garlic, scallions and carrot into the strainer, blanch in the same manner as the chiles for 35 seconds and then transfer to a blender or food processor.
Put the cilantro and thyme into the strainer and blanch for 10 seconds before placing into the blender.
Wear rubber gloves to stem and seed the chiles, and then place them into the blender. Add the vinegar, water, mustard, allspice and salt to the mixture and then process until the mixture reaches a chunky sauce-like consistency. Transfer to an air-tight bottle and store in the refrigerator for up to 6 months.