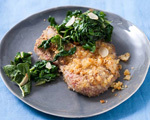 Prep: 15 min
Cook Time: 11 min
Total: 26 min
Serving: Makes 4 Servings
Panko bread crumbs are very crunchy flakes of wheat bread that come from Japan. They offer more crunch and texture than the traditional bread crumb variety.
Ingredients
All-natural olive oil non-stick cooking spray
4-1/2-inch thick bone-in loin pork chops, about 1-1/2 pounds
Salt and freshly ground pepper
2 tablespoons Dijon mustard
1/2 cup Panko bread crumbs
1 teaspoon finely grated lemon zest
2 teaspoons olive oil
Directions
Preheat the oven to 450 degrees and place the oven rack in the upper third portion of the oven. Lightly coat an oven pan with the cooking spray and set aside.
In a small bowl, mix together the bread crumbs, zest, 2 teaspoons of oil and a pinch of salt and pepper.
Season the pork chops on both sides with some salt and pepper, and then place into the prepared pan.
Spread the mustard on top of the chops and then cover with the bread crumb mixture.
Place the chops in the oven for 9 minutes and then turn on the broiler and cook 3 inches from the heat for about 2 minutes. Serve immediately.