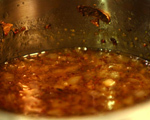 Prep: 5 min
Cook Time: 10 min
Total: 15 min
Serving: Glaze for 1 1/2 pounds of meat
This glaze is delicious on pork tenderloin, lamb and roast chicken. Brush the meat of your choice with the glaze prior and during cooking.
Ingredients
1/4 cup pure maple syrup
3 tablespoons grainy mustard
2 tablespoons Dijon mustard
1 tablespoon mayonnaise
1 tablespoon lemon juice
1 tablespoon vegetable oil
1/4 cup chicken broth
Directions
Place the maple syrup, grainy mustard and chicken broth in a saucepan over high heat and bring to a boil while whisking to combine. Cook the mixture for 9 minutes and then remove the pan from the heat; whisk in the mustard, mayonnaise and lemon juice. Use immediately.