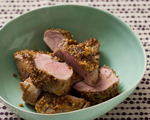 Prep: 45 min
Cook Time: 25 min
Total: 1 hr 10 min
Serving: 6 Servings
Marinating pork tenderloin with a mustard and garlic mixture prior to roasting, adds new depths of flavor and character to your meat. Serve with a side of multi-colored quinoa and some steamed asparagus drizzled with olive oil.
Ingredients
2 3/4-pound each pork tenderloins, cut into 6 pieces
1/3 cup grainy mustard
2 teaspoons orange zest
1/4 cup fresh orange juice
1 clove garlic, finely chopped
2 tablespoons extra-virgin olive oil
Sea salt and freshly ground pepper
Directions
Mix a few pinches of salt and pepper in a bowl along with the mustard, zest, juice, and garlic. Add the pork, coat with the mixture and let stand in the bowl for 30 minutes at room temperature.
In the meantime, preheat your oven to 450 degrees.
Place the oil in a large oven-safe skillet over medium heat. Once the oil begins to shimmer, add the pork and brown on all sides, and then transfer the pan to the oven and cook for 15 minutes.
Before serving, let the pork tenderloin rest for 5 minutes.