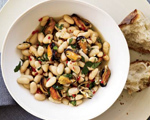 Prep: 15 min
Cook Time: 5 min
Total: 20 min
Serving: 4 Servings
The addition of mussels in this hearty stew makes it both delicious and surprisingly light. Serve with some crusty peasant bread.
Ingredients
2 pounds mussels, scrubbed
3/4 cup dry sherry
3/4 cup dry white wine
1/4 cup extra-virgin olive oil
2 cloves garlic, minced
1 Thai or other small red chile, minced
2 14-ounce cans cannellini beans, drained and rinsed
Salt
3 tablespoons chopped parsley
Directions
Place the mussels, sherry and wine in a large saucepan and bring to a simmer. Cover the mixture and cook over medium heat for about 3 minutes.
Take the mussels out of the pan with a slotted spoon, discarding any that did not open, and remove the mussels from their shells.
Strain the broth and set aside.
Place the oil in a clean saucepan over medium heat, and then add the garlic and the chile. Cook for 1 minute and then add the beans, broth and a few sprinkles of salt, and bring the mixture to a boil.
Stir in the mussels and the parsley and cook until heated through. Serve immediately.