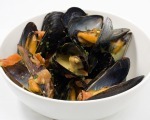 Prep: 15 min
Cook Time: 20 min
Total: 35 min
Serving: Serves 2-4 people
Looking for a special appetizer or a light meal? Mussels in White Wine Sauce is easy to make and is great served with toasted and buttered bread, or used to top a plain pasta dish.
Ingredients
2 tablespoons butter
1-1/4 cups dry white wine
2-1/4 pounds mussels, cleaned
3 tablespoons fresh parsley, chopped
2 cloves garlic, crushed
Salt and pepper to taste
Directions
Using a large pan over high heat, add the butter. Once the butter begins to foam, add the wine and garlic and bring the mixture to a boil.
Tap any opened mussels to see if they close. If they do not close, discard them. Add the mussels to the pan with the wine. Cover them with a tight fitting lid and cook over medium heat for about 5 minutes. Shake the pan often while the mussels cook.
Once cooked, all the mussels should be opened. Discard any that are closed. Strain the mussels and their liquid. Transfer the mussels to a large serving bowl.
Pour the strained liquid into a saucepan and bring to a boil. Season well and stir in the parsley. Pour the liquid over the mussels and serve hot.