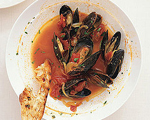 Prep: 10 min
Cook Time: 20 min
Total: 30 min
Serving: 8 Servings
Saffron is an exotic spice derived from the flower of the saffron crocus. It contributes a luminous yellow-orange coloring to foods and has a somewhat honey-like sweet taste. In this recipe, the flavor of the mussels mingles wonderfully with the saffron and wine broth, creating a simple yet flavorful dish.
Ingredients
2 teaspoons butter
3 garlic cloves, chopped
1 cup dry white wine
2 tablespoons half and half
2 1/2 teaspoons saffron threads
1 cup clam juice
4 scallions, thinly sliced
3 tomatoes, seeded, and chopped
3 tablespoons lemon juice
8 pounds mussels, scrubbed and debearded
2 1/2 tablespoons chives, chopped
Directions
In a large pot, melt the butter and sauté the garlic, being careful not to over-brown it, for approximately 1 minute.
Whisk in the wine, half-and-half and saffron with a metal whisk, and simmer for 5 minutes.
Slowly add the broth, scallions, tomatoes and lemon juice and continue simmering for an additional 5 minutes.
Add the mussels to the pot and cover, steaming for about 5 minutes. While holding the lid tightly on the pot with oven mitts, shake pot in order to mix the mussels; continue cooking for 2 more minutes.
Open pot and dispose of any mussels that did not open. Using a slotted spoon, remove the mussels and place into 4 bowls. Add the fresh chives to the broth, mix, and then ladle over the mussels. Serve with fresh sourdough bread to soak up broth.