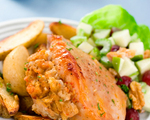 Prep: –
Cook Time: –
Total: –
Serving: 4
Perfect for an elegant dinner party or a cozy romantic feast, mushroom-stuffed chops glazed with a sweet fruit sauce become a centerpiece meal you'll be excited to share.
Ingredients
2 teaspoons butter
4 slices day-old low-carb wheat or multigrain bread, torn into tiny pieces
2 tablespoons olive oil, divided
1/4 cup finely chopped celery
1/4 cup finely chopped shallots
1/4 cup finely chopped green apple
2 cups finely chopped cremini mushrooms
1/4 cup beef broth
1 tablespoon apple cider vinegar
1 tablespoon fresh thyme leaves or 1 teaspoon dried
4 thick boneless, center-cut pork chops (5 ounces each)
Salt to taste
Black pepper to taste
1/2 cup Walden Farms No Carbs apricot spread
1-1/2 tablespoons lime juice
Directions
Preheat oven to 400 degrees F. In large oven-proof skillet, melt butter over medium-high heat. Add bread and cook, stirring often, until crisp and fragrant. Transfer to large bowl and set aside.
In same skillet, heat 1 tablespoon olive oil over medium-high heat and add celery, shallots and green apple. Cook, stirring often, until soft, about 4 minutes. Add mushrooms and cook, stirring often, until tender, about 3 minutes.
Stir in beef broth, apple cider vinegar and thyme. Cook, stirring, for 2 minutes to reduce liquid slightly. Transfer mushroom mixture to bowl with bread crumbs and toss ingredients until liquid is absorbed. Set aside.
To make pocket in pork chops, place chops on cutting board. Insert blade of sharp knife into side of each chop and slide knife parallel to cutting board to make an opening; do not cut all way through chop.
Season inside and outside of each chop with salt and pepper. Generously stuff each chop with mushroom mixture (reserve leftover stuffing). In large oven-proof skillet, heat 1 tablespoon olive oil over medium-high heat. Add chops and cook for 3 minutes each side to brown.
Add leftover mushroom stuffing and place skillet in oven on middle rack. Roast for 7 to 8 minutes or until pork is just cooked through. Remove from oven and tent with foil for 5 minutes. In small microwave-safe bowl, stir apricot spread with lime juice. Microwave on high for 20 seconds or until warm enough to pour.
To serve, transfer chops and any stuffing in skillet to serving platter or individual dinner plates and drizzle with warm fruit sauce.