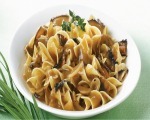 Prep: 15 min
Cook Time: 20 min
Total: 35 min
Serving: Serves 4 people
Satisfying, tasty and meat-free, Mushroom Stroganoff is perfect for dinner when there is a chill in the air outside. Serve with crunchy artisan bread.
Ingredients
1/2 cup heavy cream
1 tablespoon all-purpose flour
1/2 teaspoon salt
1/2 teaspoon dried parsley
2 pounds mixed mushrooms, cut into bite-sized pieces
1/2 cup white wine
12 ounces wide egg noodles
2 tablespoons butter
Salt and pepper to taste
Directions
Cook egg noodles according to package directions and drain. Set aside. To make the sauce for the dish, use a medium-sized saucepan over medium heat. Combine the cream, wine, flour, salt and parsley. Stir, bring to a boil, reduce heat and simmer until thickened. Set aside.
In a medium-sized saucepan over high heat, melt the butter and add the mushrooms in batches. Cook until browned. Transfer the mushrooms to a bowl after cooking.
Add the sauce to the pan with the remaining juices from cooking the mushrooms, and warm through on medium-high heat, stirring. Season with salt & pepper. Reduce the heat, stir well and remove from heat.
Add the noodles to a large serving bowl and pour on the sauce mixture. Toss to coat. Serve warm.