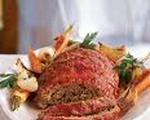 Prep: 15 min
Cook Time: 1 hr 20 min
Total: 1 hr 35 min
Serving: 6
A classic favorite Mushroom Meatloaf needs only a side of creamy mashed potatoes.
Ingredients
1 can cream of mushroom soup
1 1/2 pounds ground beef
1/2 cup dry bread crumbs
1/4 cup onion, chopped fine
1 tablespoon Worcestershire sauce
1 egg, beaten
1/8 teaspoon pepper
1/4 cup water
Directions
In a large bowl, mix thoroughly 1/2 cup of the soup, beef, bread crumbs, onion, Worcestershire sauce, egg and pepper.
In a 9 by 13 inch pan, firmly shape meat into a 8 by 4 inch loaf.
Bake at 350 degrees F for 1 1/4 hours or until done. Spoon off fat, reserving 2 tablespoons drippings.
In 1 quart saucepan over medium heat, heat remaining soup, water and reserved drippings to boiling, stirring occasionally. Serve sauce with meat loaf.