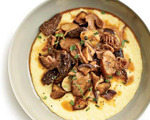 Prep: 15 min
Cook Time: 15 min
Total: 30 min
Serving: 4 Servings
This simple dish made with dried morel mushrooms, Italian sausage, shiitake caps and water chestnuts is rich and flavorful. Serve topped over mashed potatoes or polenta, and with a bottle of Zinfandel.
Ingredients
1 cup dried morel mushrooms
1-1/2 cups boiling water
2 tablespoons olive oil
2 sweet Italian sausages
1/2 pound shiitake caps, quartered
Salt and freshly ground pepper
2 thinly sliced shallots
6 water chestnuts, sliced 1/4 inch thick
1 tablespoon tomato paste
1 tablespoon unsalted butter
Chopped parsley, for garnish
Directions
Place the morel mushrooms into a bowl, add the boiling water and then soak for 10 minutes until soft. Drain the mushrooms, reserving the liquid, and set aside.
Place 1 tablespoon of olive oil into a large sauté pan over medium heat. Once the oil begins to shimmer, add the sausage and brown on all sides. Remove the sausage from the pan and slice into 1/4-inch thick slices once cool enough to handle.
Put the remaining 1 tablespoon of oil into the pan and then add the shiitake caps. Sprinkle with a few pinches of salt and pepper and then cook for 3 minutes. Stir in the shallots and morel mushrooms, cover the pan and cook for an additional 5 minutes.
Place the water chestnuts, reserved morel liquid and sliced sausage into the pan and cook for 3 minutes before adding the tomato paste.
Remove the pan from the heat, add the butter, parsley and some salt and pepper to taste; stir the mixture well to combine and then serve immediately.