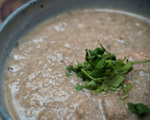 Prep: 10 min
Cook Time: 35 min
Total: 45 min
Serving: 4 Servings
The earthy flavor of mushroom blends well with the creamy and nutty flavor of cashews in this satisfying soup.
Ingredients
1/2 large onion
1 tablespoon olive oil
1/2 teaspoon salt
1/2 teaspoon pepper
1/4 teaspoon red pepper flakes
2-3 cloves garlic, minced
10 ounces portabella mushrooms, chopped
5 ounces shiitake mushrooms, chopped
3 cups vegetable broth
3 tablespoons fresh parsley, chopped
1 cup cashews
1/2 cup water
Directions
Place the cashews and the 1/2 cup of water into a food processor and blend until the mixture is smooth and creamy. Set aside.
Place the oil in a soup pot over medium-low heat and add the garlic, onion, salt and red pepper flakes. Sauté the mixture for 10 minutes.
Add 3/4 of the portabellas and 3/4 of the shiitakes to the pot and sauté over medium-heat for 3 minutes, and then add the broth, cashew mixture and 2 tablespoons of parsley.
Simmer the mixture for 10 minutes and then remove from heat and puree with an immersion blender.
Add the remaining mushrooms and parsley. Simmer the soup for 12 more minutes and then serve warm.