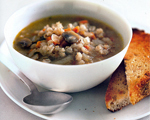 Prep: 30 min
Cook Time: 38 min
Total: 1 hr 8 min
Serving: Makes 4-6 servings
A hearty and satisfying mushroom and barley soup, filled with mini sirloin meatballs. Serve in a big bowl with a dollop of sour cream, a side of fresh country bread and glass of Merlot.
Ingredients
4 cups beef stock
1 cup water
1/2 cup pearled barley
1 large thyme sprig
Sea salt and freshly ground black pepper
2 tablespoons extra-virgin olive oil
1 pound mixed wild mushrooms, stemmed and thinly sliced
1 large shallot, finely chopped
1/2 pound ground sirloin
1 large egg
2 tablespoons dry bread crumbs
2 tablespoons freshly grated Parmesan cheese
2 tablespoons chopped flat-leaf parsley
Sour cream, for serving (optional)
Directions
Combine the stock, water, barley and thyme in a large pot over medium-high heat and sprinkle with salt and pepper. Bring mixture to a boil and then reduce heat to low and cook for 20 minutes. Remove the thyme and discard.
In a medium-sized sauté pan, heat the oil over medium-high heat until hot but not smoking. Sauté the mushrooms and the shallot for 8 minutes; sprinkle with salt and pepper.
Combine the sirloin, egg, bread crumbs, cheese, 1/2 teaspoon of salt and 1/4 teaspoon of pepper in a large bowl and mix, by hand, until blended. Form the mixture into 1-inch meatballs.
Gently place the meatballs and the mushrooms into the barley soup and simmer for 10 minutes.
Stir in the parsley and ladle into bowl, garnishing with a dollop of sour cream.