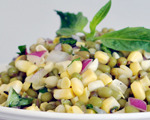 Prep: 10 min
Cook Time: 5 min
Total: 15 min
Serving: 4 Servings
Mung beans are small, cylindrical beans with vibrant, bright green skin. They have an enjoyable creamy, slightly nutty and mild flavor that makes them a wonderful base for salads.
Ingredients
3/4 cup dried mung beans
2 large ears corn, kernels removed (about 2 cups)
1 small red onion, diced (about 1/2 cup)
1 clove garlic, minced
1/2 cup basil leaves, chopped
1 tablespoon parsley, chopped
5 tablespoons extra virgin olive oil
1 tablespoon apple cider vinegar
Sea salt and freshly ground black pepper
Directions
Place the mung beans into a large bowl and cover with cold water. Allow the beans to soak overnight and then drain and rinse well.
Place 2 tablespoons of oil into a large sauté pan over medium-high heat. Once it begins to shimmer, add the beans and sauté for about 5 minutes.
In the meantime, place the oil and vinegar into a large bowl and whisk vigorously to combine. Add the beans, corn, onion, garlic, basil and parsley to the bowl, along with a few generous pinches of salt and pepper. Toss the salad well to combine and then serve immediately.