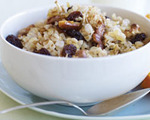 Prep: 5 min
Cook Time: 25 min
Total: 30 min
Serving: 2
This spicy, multi-grain porridge mix is made with a hearty combination of millet, buckwheat, rye, oats, fruit and nuts.
Ingredients
3 cups water
1/4 cup millet
1 seed pod of star anise
2 cloves
1 cinnamon stick
1/8 teaspoon ground nutmeg
1/4 cup dried cherries, blueberries, cranberries or raisins
1/4 cup nuts, chopped
1/4 cup buckwheat groats
1/4 cup rye flakes
1/4 cup oats
Honey to taste
Butter
Directions
Place the water in a large saucepan and bring to a boil. Add the millet, star anise, cloves, cinnamon, ground nutmeg, fruit and nuts. Bring the mixture to a simmer. Cook for ten minutes.
Stir in the buckwheat groats, rye flakes and oats, and then cook the mixture for an additional 15 minutes.
Transfer to bowls and drizzle with honey to taste. Top with a pat of butter and serve immediately.