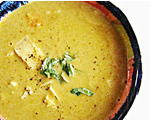 Prep: 30 min
Cook Time: 40 min
Total: 1 hr 10 min
Serving: About 7 cups
Although there are many variations to Mulligatawny Soup, most are made with curry and thickened with rice.
Ingredients
1/4 cup (1/2 stick) butter or vegetable oil
1/2 cup diced onion
1 carrot, diced
2 celery ribs, diced
1-1/2 tablespoons all-purpose flour
2 teaspoons curry powder
4 cups chicken broth
1 bay leaf
1/4 cup diced apples
1/2 cup cooked rice
1/2 cup diced cooked chicken
Sea salt and freshly ground pepper to taste
1/8 teaspoon dried thyme
1/2 teaspoon grated lemon zest
1/2 cup unsweetened coconut milk or heavy cream
Directions
In a large soup pot, melt the butter over medium heat. Sauté the onion, carrot and celery for 6 minutes.
Sprinkle in the flour and curry powder and then pour in the broth and add the bay leaf. Cook the mixture for 3 minutes, stirring to mix.
Bring the mixture to a boil and then reduce heat to medium-low and simmer for 15 minutes.
Add the apples, rice, chicken, thyme, lemon zest and mix well. Season with salt and pepper to taste and then simmer for 15 additional minutes.
Remove the bay leaf from the soup and then stir in the coconut milk. Heat through and serve immediately.