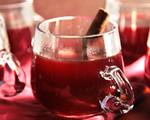 Prep: 12 hr 10 min
Cook Time: 1 hr 15 min
Total: 13 hr 25 min
Serving: Serves 6-8
The ultimate in old-school holiday drinks; mulled wine has been a festive favorite since the 18th century.
Ingredients
5 medium oranges
1 medium grapefruit
36 whole cloves
1 (750-milliliter) bottle medium-bodied red wine, such as Pinot Noir
1/2 cup granulated sugar
5 (3-inch) cinnamon sticks
2 star anise pods
1 (750-milliliter) bottle ruby port
Directions
Preheat the oven to 350 degrees.
Put the oranges and grapefruit into a baking dish and bake for 35 minutes before flipping and baking for 30 minutes more.
Remove the fruit from the oven and allow to cool before studding each with 6 cloves.
In a large saucepan, add the red wine, sugar cinnamon and star anise and place over low heat, stirring frequently until the sugar has dissolved.
Remove the wine mixture from the heat and add the fruit, pushing down to submerge the fruit into the liquid. Cover the pan and let sit for 12 hours to allow flavors to blend.
Remove the fruit from the mixture, and juice. Pour the juice into the wine mixture and then strain.
Stir in the port and then place the pan over low heat until warmed through. Ladle into mugs and serve immediately.