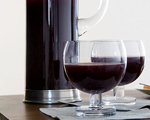 Prep: 40 min
Cook Time: 10 min
Total: 50 min
Serving: 8 servings
This is a great way to use leftover bottles of red wine from a dinner party or friendly gathering. Fruity red wines like Merlot and Zinfandel work the best.
Ingredients
2 teaspoons black peppercorns, lightly crushed
1 teaspoon fennel seeds, lightly crushed
1 3-inch cinnamon stick, broken into pieces
2 750-milliliter bottles red wine
3 bay leaves
Zest strips from 1 orange
1-1/2 cups muscovado sugar or other dark brown sugar
Directions
Place the peppercorns, fennel seeds and cinnamon into a piece of cheesecloth and tie securely to make a small pouch.
Place the bay leaves and orange zest into a large saucepan and then stir in the wine. Bring the mixture to a simmer over low heat and cook for 10 minutes, covered.
Remove the pan from the heat and let stand for 30 minutes, covered, to steep, before removing the orange zest and the cheesecloth packet and stirring in the sugar until dissolved. Serve warm.