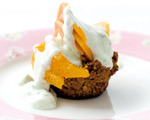 Prep: 25 min
Cook Time: 20 min
Total: 45 min
Serving: 4 Servings
These tartlets, made with muesli and blueberry, are topped with fresh orange segments, Greek yogurt and papaya slices. Enjoy them as a sweet breakfast, filling snack or as a healthy dessert.
Ingredients
1/2 cup fresh blueberries
3 cups unsweetened muesli
1/2 cup honey
1 ripe papaya, thinly sliced
2 oranges, peeled and cut into segments
Juice of 1 lime
1 ounce fresh mint leaves, minced
1 cup plain Greek yogurt
Directions
Preheat your oven to 400 degrees.
Place the blueberries, muesli and honey into a bowl and mix together to combine. Transfer the mixture to a muffin tin and evenly place into each tin cup, pressing firmly to create a bottom crust.
Put the muffin tin into the preheated oven and bake for 20 minutes.
Remove the tartlet crusts and allow to cool for 15 minutes before removing them from the tin and setting aside to cool to room temperature.
In the meantime, combine the yogurt with the lime leaves and stir to blend.
Once cool, top each muesli crust with the papaya and the orange, and then sprinkle over some lime juice. Drizzle that tartlets with the yogurt mixture and serve.