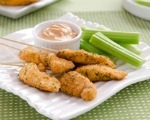 Prep: 15 min
Cook Time: 12 min
Total: 27 min
Serving: 4 servings
A chicken dinner with a cayenne pepper kick!
For a fun twist, serve cooked chicken strips on wooden skewers.
Also terrific with Hellmann's® or Best Foods® Canola Cholesterol Free Mayonnaise.
Nutrition Information per serving:
Calories 450, Calories From Fat 210, Saturated Fat 3.5g, Trans Fat 0g, Total Fat 23g, Cholesterol 95mg, Sodium 510mg, Total Carbohydrate 20g, Sugars 1g, Dietary Fiber 1g, Protein 37g, Vitamin A 0%, Vitamin C 4%, Calcium 6%, Iron 15%
Ingredients
1/2 cup Hellmann's® or Best Foods® Real Mayonnaise
1/2 teaspoon cayenne pepper (or to taste)
4 boneless, skinless chicken breast halves (about 1-1/4 lbs.), cut into strips
1/2 cup plain dry bread crumbs
1 tablespoon chopped fresh parsley
Directions
Preheat oven to 400 degrees Fahrenheit.
Combine Hellmann's® or Best Foods® Real Mayonnaise and cayenne pepper in small bowl; reserve 1/2 for dipping. Combine breadcrumbs with parsley. Coat chicken with remaining mayonnaise mixture, then coat with bread crumbs. Arrange chicken on baking sheet.
Bake chicken 12 minutes or until chicken is golden brown and thoroughly cooked. Serve with reserved dipping sauce.