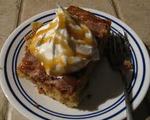 Prep: 20 min
Cook Time: 45 min
Total: 1 hr 5 min
Serving: 10 People
This super moist apple cake is the perfect addition to any meal and a fall favorite. Try using a variety of apples for the best flavor and texture.
Ingredients
3 medium baking apples, peeled and thinly sliced
2 cups sugar
12 tablespoons unsalted butter, room temperature
3 large eggs
1 tablespoon cake flour (not self-rising)
1 tablespoon all-purpose flour
2 teaspoons baking powder
1/4 cup whole milk
1/4 teaspoon vanilla extract
Pinch of salt
3/4 cup heavy cream
1 1/2 teaspoons ground cinnamon
Pinch of nutmeg
Directions
Preheat the oven to 350 degrees F and grease a 10-inch round, 2-inch deep cake pan and line the bottom with parchment paper.
In a large bowl, use an electric mixer to beat 1 1/2 cups of the sugar and the entire amount of butter for 3 to 5 minutes until the batter is light in color. Clean the sides of the bowl with a spatula and continue beating the mixture for a few minutes more until it is very light in both color and texture.
Mix in the eggs one at a time.
Sift together both flours, salt, and baking powder. Mix the milk and these dry ingredients into the butter mixture.
Add the vanilla and mix the batter just until smooth. Do not over beat!
Pour the mixture into the pan and make sure it is evenly spread. Use the apple slices to completely cover the top of the cake. Then pour the cream gently over the apples.
Combine the remaining 1/2 cup sugar, nutmeg, and cinnamon, and sprinkle it over the top of the cake.
Bake for 45 minutes, or until a toothpick inserted in the center comes out clean. After removing from oven, transfer cake to a rack and let cool completely before serving.