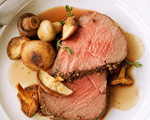 Prep: 25 min
Cook Time: 40 min
Total: 1 hr 5 min
Serving: Makes 12 Servings
The perfect Mother's Day meal; a succulent beef tenderloin roast served with roasted mushrooms seasoned with fresh oregano and thyme.
Ingredients
1 4 to 5 pound beef tenderloin roast, trimmed of fat
4 cloves garlic, minced
1-1/2 teaspoon sea salt v
1-1/4 teaspoon freshly ground black pepper
1 teaspoon dried oregano
1 pound mixed mushrooms, halved
2 tablespoons olive oil
Salt and freshly ground pepper
Fresh oregano and thyme
Directions
Preheat your oven to 425 degrees.
Place the salt, black pepper, and oregano into a small bowl and stir to combine.
Place the tenderloin into a roasting pan and then rub the salt mixture all over the roast.
Sprinkle the tenderloin with the garlic and then place in the oven for 40 minutes for medium-rare doneness.
In the meantime, place the mushrooms into a bowl with the olive oil and a few pinches of salt and pepper. Toss to combine and then transfer to a baking pan.
Place the mushrooms into the oven for 15 minutes, and then remove and sprinkle with the fresh thyme and oregano.
Remove the roast from the oven and tent with a piece of aluminum foil. Let rest for 15 minutes before slicing and serving with the mushrooms.