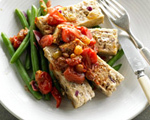 Prep: 15 min
Cook Time: 20 min
Total: 35 min
Serving: 4 Servings
This is not your mother's meatloaf recipe but a delicious and exotic blend of couscous, curry, cinnamon and raisins.
Ingredients
1-1/2 cups raisins
1 small red onion, chopped
1/2 cup couscous, uncooked
1 teaspoon salt
1 teaspoon curry powder
1 teaspoon ground cinnamon
1 pound ground turkey
1 egg, lightly beaten
1 pint grape tomatoes
Directions
Preheat your oven to 425 degrees, set the oven rack in the top third of the oven and grease a foil-lined 8x8x2-inch pan.
Place the raisins, half of the onion, the couscous, salt, curry powder, and 1/2 teaspoon of the cinnamon into a large bowl and stir to combine.
Add 3/4 cup boiling water to the bowl, cover and let stand for 2 minutes.
Stir in the turkey and the egg and then transfer the mixture to the prepared pan, shaping it into a log.
Place the turkey mixture into the oven for 20 minutes or until cooked through.
In the meantime, place the remaining 1/2 cup raisins, half onion, remaining cinnamon, the tomatoes, and 1/4 cup water in a saucepan over medium-high heat until the tomatoes split.
Cut the meatloaf into slices and serve with the tomato sauce.