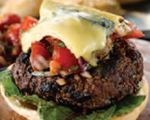 Prep: 2 hr
Cook Time: 8 min
Total: 2 hr 8 min
Serving: 4 Servings
Who says a great burger has to be made with plain beef? Try this juicy lamb burger smothered in a sweet and citrusy salsa.
Ingredients
For the Salsa:
2 tablespoons olive oil
2 tablespoons fresh lemon juice
1 tablespoon honey
2 beets, boiled, peeled, cut into 1/3-inch cubes
1 large orange, peel and pith cut away, flesh cut into 1/3-inch cubes
1 cup chopped red onion
1/4 cup chopped pitted green Greek olives
For the Burgers:
1 large shallot, minced
2 tablespoons chopped fresh cilantro
1 jalapeño chile, seeded, minced
1 garlic clove, minced
1-1/4 teaspoons salt
3/4 teaspoon ground black pepper
1/2 teaspoon paprika
1/2 teaspoon ground cumin
1-3/4 pounds ground lamb
Cooking spray
4 pieces lettuce
Mayonnaise to spread
4 large hamburger buns
Directions
In a medium bowl, mix together the olive oil, lemon juice and honey with a whisk until well blended. Add the beets, orange, onion and olives and stir well. Season the salsa with salt and pepper, cover and place in the refrigerator to chill.
In a large bowl, mix together the shallot, cilantro, jalapeño, garlic, salt, black pepper, paprika, and cumin. Add the lamb and mix with your hand or a fork until ingredients are well combined.
Shape the meat into four 1/2-inch patties, cover and then place into the refrigerator for at least 2 hours.
Prepare grill on medium-high heat.
Spray the grill rack with cooking spray and grill the burgers, flipping once, for 4 minutes per side for a medium-rare doneness.
Grill buns, cut side down, for about 2 minutes and then spread some mayonnaise on each bun bottom, followed by a piece of lettuce. Layer each with a burger and then top with the salsa. Serve immediately.