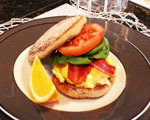 Prep: 5 min
Cook Time: 3 min
Total: 8 min
Serving: 1 person
This morning sandwich will wake you up with a healthy start.
Ingredients
1/4 cup cholesterol-free egg product
1 English muffin, split, toasted
1 KRAFT 2% Milk Singles
1 slice OSCAR MAYER Turkey Bacon, cooked, cut crosswise in half
1 tomato slice
1/2 cup fresh spinach leaves
Directions
Cook egg product in skillet sprayed with cooking spray on medium heat 3 min. or until set, stirring occasionally.
Spoon onto 1 muffin half; top with 2% Milk Singles, bacon, tomato and spinach.
Cover with remaining muffin half.
Nutrition Information Per Serving: 270 calories, 8g total fat, 3g saturated fat, 0g trans fat, 20mg cholesterol, 840mg sodium, 29g carbohydrate, 2g dietary fiber, 5g sugars, 19g protein, 40%DV vitamin A, 10%DV vitamin C, 40%DV calcium, 25%DV iron. Exchange: 2 Starch, 2 Meat (L), 1/2 Fat Dietary Exchanges (or Exchange Calculations) based on Choose Your Foods: Exchange Lists for Diabetes © 2008 by the American Diabetes Association and the American Dietetic Association.