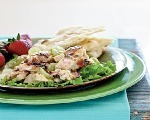 Prep: 1 hr 15 min
Cook Time: 25 min
Total: 1 hr 40 min
Serving: Serves 6 people
Like it spicy? Add a lot. More mild your style? Add a little. You control the seasoning with More-or-Less Spicy Grilled Chicken Salad. Serve on greens or in pita pockets. Allow about an hour for the chicken to marinade.
Ingredients
4 boneless, skinless chicken breast halves
2 tablespoons lemon juice
2 tablespoons olive oil
2 teaspoons lemon pepper
2 sweet onions, thickly sliced
1-1/2 cups of button mushrooms, chopped (you can use any type of mushroom)
2 yellow bell peppers, chopped into 1-inch pieces
1 cup of low-fat mayonnaise
Prepared hot sauce to taste
Salt and fresh ground black pepper to taste
Directions
Use a large, sealable plastic bag for the marinade. For the marinade, add the lemon juice, olive oil and lemon pepper. Add the chicken. Massage to coat and refrigerate for at least an hour.
Preheat your grill to high heat. Lightly oil the grill grate. Use a grill basket and add to it the onion, mushrooms and yellow bell peppers. Grill the vegetables for about 2-3 minutes, or until slightly soft, but still crunchy. Set aside when done.
Put the chicken on the grill, discard the marinade, and cook the chicken for about 6-7 minutes on each side. Remove from the grill and cool. Once cooled, chop the chicken into 1-inch pieces.
Use a large bowl to mix together the onions, mushrooms, bell pepper, chicken and low-fat mayonnaise. Use the hot sauce to season (to taste). Add the salt and ground black pepper to taste. Cover the mixture and refrigerate until you're ready to serve.