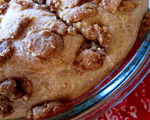 Prep: 1 hr 45 min
Cook Time: 20 hr
Total: 21 hr 45 min
Serving: 6
Perfect for tea time, Moravian Sugar Cake is tender and light.
Ingredients
1 package hot roll mix
butter, melted
1/3 cup sugar
1/3 cup instant nonfat dry milk
2 eggs
1/3 cup instant mashed potato flakes
2/3 cup brown sugar
1 teaspoon cinnamon
Directions
Dissolve yeast from hot roll mix in 3/4 cup very warm water in large bowl.
Stir half the flour from mix, 1/3 cup butter, sugar, milk, eggs and potato flakes into yeast mixture. Beat for 2 minutes at medium speed of electric mixer. Add remaining flour, mixing well.
Cover and let rise in warm place for about 45 minutes or until doubled in bulk. Stir dough down. Spread in a greased 9 by 13 inch baking pan. Cover and let rise for about 45 minutes or until doubled in bulk.
Press dough with floured finger tip to make pockets. Combine brown sugar and cinnamon in bowl. Sprinkle over dough. Drizzle with 1/2 cup butter. Bake at 375 degrees F for 15 to 20 minutes.