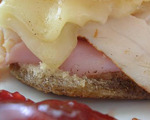 Prep: 5 min
Cook Time: 5 min
Total: 10 min
Serving: 6 Servings
The Monte Cristo Sandwich is simple to prepare and delicious to enjoy with its buttery, slightly tangy and cheesy flavor.
Ingredients
12 slices French bread
3 tablespoons butter, softened
Dijon mustard
6 slices chicken, sliced thinly
6 slices ham, sliced thinly
1 cup Swiss cheese, grated (about 4 ounces)
Directions
Preheat your oven broiler.
Spread half of the bread slices with butter and the other halves with Dijon mustard. Top the chicken and ham on the bread slices with the mustard and then close the sandwiches with the bread slices spread with butter.
Place the sandwiches in the oven and toast until golden in color. Flip the sandwiches, top with the Swiss cheese and then continue to toast until the cheese is melted and bubbly. Cut the sandwich diagonally and serve immediately.