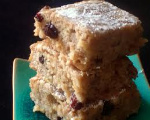 Prep: 15 min
Cook Time: 40 min
Total: 55 min
Serving: 2 dozen
Deliciously fun snack bars. Great for packing into lunches!
Ingredients
Vegetable oil spray
1/3 cup flour
1 cup quick-cooking oats
1/3 cup sugar of 1/4 cup honey
2 teaspoons baking powder
1 teaspoon ground cinnamon
1/2 teaspoon baking soda
1/2 cup raisins
1 cup mashed banana
1/4 cup skim milk
2 egg whites
1 dash salt
1 teaspoon vanilla extract
Directions
Preheat the oven to 350 degrees Fahrenheit. Coat a 9x13 inch baking pan with the cooking spray.
Mix together the flour, oats, sugar, baking powder, cinnamon, baking soda, salt and raisins in a large bowl.
Beat in the banana, milk, egg whites and vanilla until smooth.
Pour into the prepared pan and bake until golden brown, about 35-40 minutes.
Cut into 2 inch squares to serve, warm or cold.