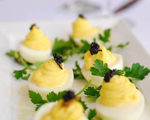 Prep: 40 min
Cook Time: 21 min
Total: 1 hr 1 min
Serving: 12 Deviled Egg Halves
Always a crowd pleaser, this traditional appetizer should be a staple on your hors d'oeuvres table. To add a modern twist, garnish with a teaspoon of crème fraiche and a bit of caviar.
Ingredients
6 large eggs
1/4 cup mayonnaise
1 teaspoon Dijon mustard
1/8 teaspoon cayenne
2 ounces crème fraiche
1 small jar caviar
Directions
Place the eggs in a large saucepan and cover eggs with water by at least 2-inches. Bring to a boil and then reduce heat to low and cover the pan for 30 seconds.
Take the pan off the heat and let sit, covered, for 15 minutes.
Take the eggs out of the hot water and transfer to a bowl of cold water. Leave for 5 minutes and then peel eggs.
Cut the eggs in half with a sharp knife and carefully remove the yolks and place into a clean bowl.
Mash the yolks with a fork along with the mayonnaise, mustard, cayenne, salt and pepper until smooth.
If available, fill a pastry bag with the egg yolk mixture and pipe into the egg whites. Otherwise, carefully spoon mixture into the egg whites and smooth off the top. Garnish with a teaspoon of crème fraiche and a bit of caviar.