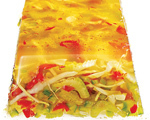 Prep: 6 hr 40 min
Cook Time: 5 min
Total: 6 hr 45 min
Serving: Makes 12 Servings
Cut this molded salad into thick slices and serve as a refreshing side to grilled meats or fish.
Ingredients
1⁄2 cup sugar
1⁄3 cup rice vinegar
2 tablespoons fresh lemon juice
2 tablespoons unflavored powdered gelatin, softened in 1⁄2 cup cold water
1 teaspoon sea salt
2 cups chopped celery
1 cup finely shredded cabbage
2 jarred pimentos, minced
1 green bell pepper, cored, seeded, and minced
Vegetable oil for greasing
Directions
Grease a 12 x 4 x 2-1⁄2-inch loaf pan with vegetable oil and then set aside.
Place the sugar, vinegar, lemon juice, gelatin, and salt in a large saucepan over medium heat and stir until the gelatin has totally dissolved. Remove the pan from the heat and place in the refrigerator for 30 minutes to chill.
Add the celery, cabbage, pimentos and green pepper to the pan and stir to combine.
Transfer the mixture to the prepared loaf pan and then place in the refrigerator for 6 hours to chill.
To remove the salad from the mold, place the pan in hot water for 5 seconds then invert onto a serving plate.