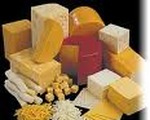 Prep: 4 hr 25 min
Cook Time: 20 min
Total: 4 hr 45 min
Serving: 15-20
Molded Cheese and Liver Pate is perfect for an elegant dinner party. This deluxe appetizer serves 15-20 guests.
Ingredients
2 envelopes unflavored gelatin
4 chicken bouillon cubes
1/4 cup vegetable juice cocktail
1 cup brick cheese, shredded
1 tablespoon blue cheese, crumbled
1/4 cup sour cream
2 tablespoons celery, chopped
1 tablespoon green pepper, chopped
1/2 cup mushrooms, chopped
2 tablespoons butter, melted
1/4 pound liver sausage
2 teaspoons lemon juice
4 teaspoons brandy
1/3 cup pecans, chopped
Directions
Soften gelatin in 1/2 cup cold water. Heat with 1 cup water in a 1-quart saucepan, stirring until dissolved. Add bouillon cubes, stirring until dissolved.
Combine 1/4 cup gelatin mixture with vegetable juice; mix well. Pour into an oiled 4-1/2 cup mold. Chill until set.
Beat cheeses with sour cream in a bowl. Add 1/2 cup gelatin mixture, celery and green pepper; mix well. Spoon over congealed layer. Chill until set.
Cook mushrooms in butter in skillet until tender. Combine sausage and lemon juice in bowl; mix well. Add mushrooms, remaining gelatin mixture and brandy; mix well. Fold in nuts; spoon over cheese layer.
Chill until firm. Unmold to serve.