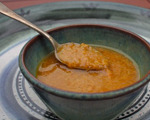 Prep: 5 min
Cook Time: 5 min
Total: 10 min
Serving: 2 Servings
Use this fresh and citrusy condiment in salads, drizzled over vegetables or spooned over grilled fish and chicken.
Photo originally appeared on simplebites.net
Ingredients
4 cloves garlic, minced
1 medium onion, thinly sliced
3 teaspoons pickled jalapeno pepper, chopped
1 small red or orange sweet pepper, chopped (1/2 cup)
1 tablespoon olive oil
1/4 cup fresh orange juice
1 tablespoon fresh lemon juice
1 (15-ounce) can black beans, rinsed and drained
salt and fresh pepper
Directions
Put the olive oil into a large sauté pan over low heat. Once shimmering, add the garlic, onion, jalapeno pepper, and sweet pepper and sauté for 4 minutes. Stir in the orange juice and the lemon juice and bring the mixture to a boil. Serve immediately.